COPE FACILITY DOGS GO TO WORK!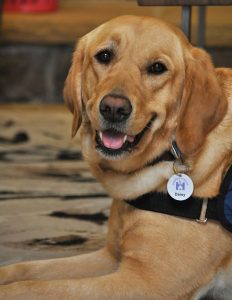 Facility Dog Expectations and Information:
COPE Service Dogs' approach to placing a Facility dog focuses on three major areas: the facility; the handler (the person(s) handling the dog at work) and primary caretaker (the person(s) who will be the dog's caregiver/look after and be responsible for the dog at home); and the dog's role in your facility.
A Facility Dog is a certified working dog that can provide support, therapy and/or education in the workplace and is paired with an employee or employees to help better serve your clients. Facility Dogs may access public facilities (i.e. they may enter public establishments or use public transportation that pets are not allowed) while they are at work with a qualified handler.
Please note that COPE prioritizes placing Facility dogs in the Simcoe County area and locations where we operate. There are often significant wait lists for Service and Facility dogs and occasionally we close our waiting list due to high volumes.
If you are interested in hosting a facility dog, download the process, application and costs on this page.
You may also express your interest in hosting a facility dog by emailing: info@copedogs.org or by calling 1-705-734-2673, extension 221
Please submit completed application to info@copedogs.org.
It is recommended that the proposed handler submit the application.
Facility Dog Application Process
Facility Dog Application Form
Facility Dog Fee Structure