COPE FACILITY DOGS GO TO WORK!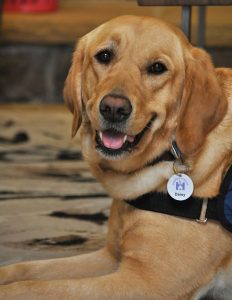 Facility Dog Expectations and Information:
Thank you for your interest in COPE Service Dogs and the Facility Dog Program.
A trained Facility Dog works with a specialized handler in their chosen field, building on canine – human partnerships. The Facility Dog has a set of skills and tasks aiding in intervention for their chosen professional practice. The work of a Facility Dog can include visitations or professional therapy in one or more locations such as Dental Offices, Courtrooms, Hospices, Medical Clinics. The canine-human bond can lead to the most rewarding and liberating experiences, while providing a variety of other benefits to the facility and their clients involved.
The Facility Dog may enter facilities that have given permission for the use of the dog with handler present. However, the Facility Dog does not have public access rights (such as Malls, Grocery Stores etc.) where pet dogs are not allowed.
The facility dog handler and backup handler (if applicable) will attend COPE's Team Training Camp to be matched and trained with their Facility Dog. Successful applicants will be given study materials and quizzes to begin their learning prior to the training camp. During the 5-7 day training camp, the applicant(s) will learn how to work with their dog, building a bond and practicing skills, tasks, reinforcing behaviours while providing emotional and physical stimulation to the animal. Part of the training will take place in a COPE designated location, and the other part onsite at the applicant's facility location.
Once training has been completed, your organization and handler will be required to provide ongoing information regarding the dog's health and work habits to adhere to Assistance Dogs International (ADI) qualifications. COPE Service Dogs will also follow up once a month for the first 6 months and then once a year (either in person, phone or via email) to provide further guidance or advice to the facility, however you may reach out to a trainer at any time if you have any questions. Every two years the dog will be recertified to meet ADI regulations.
If you are interested in pursuing a COPE Facility Dog for your organization, and learning the costs involved, please request a Facility Dog application package by emailing info@copedogs.org with your name, facility name and contact information or complete the facility application below.