Our honorary patrons
COPE is fortunate to have George and Susan Cohon as our honorary patrons. George is the Founder of McDonald's Canada and Russia as well as the Founder of Ronald McDonald House Charities in Canada and Russia.
The Cohons have been long-time COPE supporters and among other initiatives, have arranged sponsorship of COPE service dogs Big Mac, Golden Arches and McFlurry (our current breeding mom). Well known for their philanthropy, we appreciate their generosity and support.
Q Media Solutions spoke to George Cohon in October 2019, to talk about his passion for Canines in the Classroom and Reading Buddy.
To watch the video Q Media Solutions – Canines in the Classroom, please click on link.
Tilly and Simmy
The Cohon's are also well known around Toronto's rehab and palliative care hospitals for the visits they make with their own certified therapy dogs Tilly and Simmy. It means a lot having George, Susan, Tilly and Simmy on our team!
Key to the city
Recently George was awarded the Key to the City by Toronto Mayor Rob Ford. All of us at COPE extend our heartfelt congratulations!

Canines in the Classroom Student Trainer Teams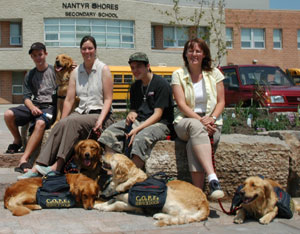 Student Trainers from Nantyr Shores Secondary School